I was delighted last week to be able to spend time in A Coruña, a seaside city in Galicia, Spain's northwestern–most province. Galicia has long suffered from a dearth of attention, especially in comparison to Spain's nearly mythic Mediterranean coast, from Barcelona on down; and despite lying just 100mi from the border with Portugal, A Coruña did not receive the bump in attention paid to Porto, Lisbon, and the Algarve when travel to the Lusophone Atlantic coast of Iberia came into vogue.
With this post, then, I'm going to try and make amends. This will be a by-the-books travel guide to A Coruña, including how to get there, where to stay, and what to do while you're there. I had a blast with my time and I think you will too.
Overview
A Coruña lies in the northwest of Galicia, itself the northwest of Spain. Together with its suburbs, the city boasts a total population of about 400,000 – in US terms, its size is comparable to that of Asheville, NC, Santa Barbara, CA, or even Anchorage, AK.
Its weather and environs hew much more closely to the cities of the Pacific Northwest, which is why in the subhed I called it "Spain's Portland" (and I mean Portland, OR); it's intermittently rainy and cloudy a lot of the time, but rarely stormy or snowy, and heat in summer is softened by the breeze from the ocean.
Much of the city lies on a peninsula which extends into a leeward bay known as the Ría da Coruña – opposite the city across the bay lies Ferrol, once an important shipbuilding town. The Ría da Coruña is exemplary of the geography of littoral Galicia, with the verdant coastal land rising rather steeply and irregularly from sea level to form the surrounding hills and dales. Rías like this can be found elsewhere in the world – they are basically the same as Scandinavian fjords, with quibbles over whether glacier action carved the landscape – but were named for the first time on the Galician coast.
If population totals don't mean much to you, I'll add that the city feels bigger in terms of geography and smaller in terms of population than it seems. Taking in the sights required several 20k+ step count days, but in my time there I ran into a few repeat customers, including one lovely doña who introduced her 17-year-old dog and informed me it was her cat's birthday the next Sunday, then showed me a picture of said birthday when I saw her at the cafe Monday.
The city's name – A Coruña – may look odd to those familiar with Spanish, but that is because it is given in Galician, a Spanish dialect closer to Portuguese. To get its name in Spanish, simply switch the A for La. Since the democratic transition, the government in Galicia has promoted the use of their dialect, also called gallego. However, this should not be cause for alarm on the traveler's part: everyone in the city speaks perfectly normal (and very clear, I thought) Castilian Spanish, and almost everyone speaks better English than your Spanish anyway.
History, Deep and Recent, and Current State
Deep History
In his excellent The Celts: A Very Short Introduction, Cambridge archaeologist Barry Cunliffe challenges us to rethink our familiar notions of European geography:
A glance at the map of Europe, suitably adjusted to jolt our cognitive geography, is sufficient to stress that Atlantic Europe is a cohesive region. Its many promontories and peninsulas are linked by the ocean, while the flooded valleys of its ria coastlines provide sheltered waters reaching deep inland. The great rivers of France and Iberia flowing westwards into the ocean are arteries of communication binding huge swathes of inland territory to the littoral zone.

Cunliffe, The Celts
Cunliffe focuses on Atlantic Europe as the natural homeland of the Celts, an ancient people who lived down from the Algarve in Portugal through Galicia and French Bordeaux and Brittany all the way up to Ireland and Wales. This ancient cross-European cultural continuity gets some play in Galicia today – souvenir shops sell emblems and necklaces with goofy "Celtic symbols" to tourists – but the region's Celtic roots are much less important to its history than what came after.
What – or rather who – came after was Julius Caesar and the Romans. Caesar came to A Coruña in 62 BC and established trade in iron with France and England around the Bay of Biscay, a pattern of intercultural communication which would repeat endlessly through Galician history. In the second century, Roman imperial administrators under Trajan or somelike set about building a nice big lighthouse at the end of the peninsula of Coruña – this is the Tower of Hercules, which stands today and is therefore the oldest extant lighthouse in the world.
After Rome, A Coruña's status as a rich and well-connected coastal city opened it up for intermittent invasion by the Vikings, while its Romano-Iberian neighbors to the south fell eventually to the great conquest of Al-Andalus perpetrated by the Umayyads.
By the early 800s the kings of Asturias had reestablished a beachhead of Christian rule in northern Spain, including Galicia. Then around 814, Alfonso II (there would be eleven more Alfonsos ruling Spain) learned that some peasants had found bones supposedly belonging to Saint James the Greater, one of Jesus' Apostles. Seizing upon the opportunity to up his status as a defender of Christendom, Alfonso II affirmed the identity of the remains and declared that a great cathedral be built on its site – this became the cathedral of Santiago de Compostela, and the pilgrimage to it the Camino de Santiago.
While Coruña was not the ultimate destination of the Camino, the Camino changed it as well. Pilgrims on the Camino came from all Christendom as part of a large network of pilgrimages active in the High Middle Ages – Ken Follett's indescribably popular 1989 novel, The Pillars of the Earth, dramatizes this well in one of its later chapters. But most of those pilgrims ended up coming from France, and the development of the overland routes of travel through northern Spain influenced Coruña and Galicia greatly. Monasteries sprouted up all over Galicia and grew rich and powerful from the income of the pilgrims; the monks began to grow wine, leading to the division of varietals handed down to us today.
The resumption of cross-cultural communication in Galicia in the High Middle Ages would deal a nasty sting to the region as we turn to the early modern; the Black Death arrived in Iberia at Galicia, via those Biscay-based water routes established by the Romans. But for all the suffering the Galicians survived in the 1400s, the birth of empire in the 1500s led to better times. The Catholic Monarchs, Ferdinand and Isabella, built their Royal Audiencia in Coruña, and their successor Carlos I (Charles V to his subjects in the Holy Roman Empire) established one of his Casas de la Contratación in the city as well, this one devoted to the spice trade.
The Spanish Armada departed from Ferrol in 1588. After that lucky storm wrecked it, Francis Drake raided Coruña in retribution in 1589, but was repelled thanks in part to the efforts of a brave woman known as Maria Pita, whose name adorns the city's main square today.
Recent History
When Napoleon invaded Spain in the Peninsular Wars, the Coruñeros fought back again, this time aided by the British. The 1809 Battle of Corunna was a Dunkirk moment 130 years before the one we know today in Normandy took place, as 26,000 British troops out of an expeditionary force of 35,000 escaped back to their ships in the Bay of Biscay. Sir John Moore, commander of the British forces in Spain, was wounded and died in Coruña; the Jardin San Carlos in the city's Marina is devoted to him.
Fast forwarding a bit more, Francisco Franco was born in Ferrol in 1892. He would go on to lead the Right in the Spanish Civil War from 1936 to 1939, after which he would rule Spain singlehandedly for 36 more years. Franco took as his country home the Pazo de Meirás in the hills outside Coruña; oddly enough, that specific home had previously belonged to one of Spain's most celebrated modern novelists, Emilia Pardo Bazan, who was born there into a noble Coruñero family in 1851.
After the transition to democracy, Galicia was promoted to the status of autonomous community, making it co-equal to Catalonia, Andalusia, the Basque Country, etc. The local government has since promoted the use of Galician, which is why you'll see it on signs and hear it on the street occasionally.
Current State
A Coruña was changed immeasurably in 1975, when Amancio Ortega opened up his first Zara in the city center. Since then, Zara has grown to be the flagship chain of Inditex, Ortega's conglomerate and the world's largest apparel retailer. Inditex's 100bn Euro valuation is good enough to make Ortega the world's 11th richest man.
Inditex dominates the region's economy. Its headquarters, in rural Arteixo, employs 5,000 designers who are shuttled out from the city daily. You can't go more than a couple blocks without seeing one Inditex store or another, including its crown jewel, the Zara flagship, which lies at the intersection of the Calle de Sanchez Bregua and the Calle Compostela, one block from the ocean.
Zara brought modernity and industry to the city, attracting designers and models from all over the world, who went on to demand big-city amenities. Couture boutiques like Iamnue Store sprung up in its wake, as did fine dining of various cuisines, helping diversify the Galician diet away from its traditional reliance on mariscos.
This novel modernity has made A Coruña a very lively place. Professionals of all stripes walk its streets and crowd its bars alongside Erasmus students from across Europe. If there's a baby bust plaguing modern Spain, you couldn't tell by looking at Coruña – almost every young couple I saw had a baby in tow, and the playground of the Plaza Pontevedra in the city center was filled daily with shouts of playing kids.
Life is good in A Coruña, which also engenders a certain chill among its inhabitants. People were very happy indeed to spend their days at big restaurant tables, taking cañas of Estrella Galicia or bumming out on their lovely beaches like Riazor or Santa Caterina. For travelers more accustomed to the haughty monuments of Madrid or the sun-drenched Mediterranean coast, A Coruña's different pace of life has a lot to offer.
Getting There
A Coruña has a small airport with mostly-daily flights to Madrid and Barcelona – according to Expedia, you can even get there from London-Gatwick.
If you've got the time, though, take the train. There are about 5 daily trains from Madrid's Chamartin Station to Coruña via Renfe, the national rail operator. The journey takes 5-6 hours and lets you soak in the varied geography of Spain while also going through other Galician cities like Ourense and Santiago.
Sights to See
Ciudad Vieja

Large, pedestrian neighborhood entirely paved by cobblestones and hemmed in by tall townhouses which emerge occasionally into breathtakingly peaceful courtyards. Reminiscent of Venice in its breadth – you could spend your entire stay here.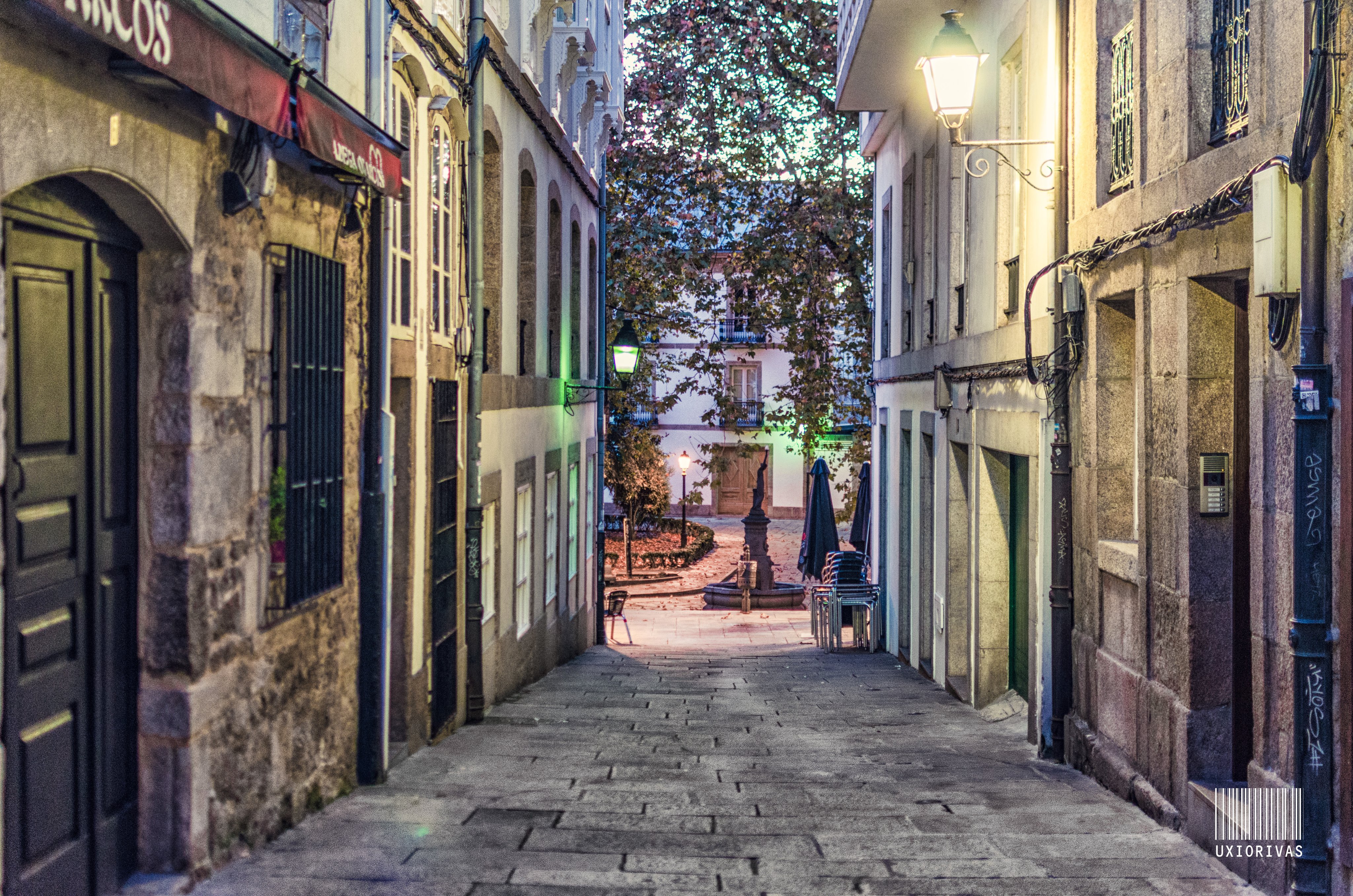 Plaza Maria Pita

Large broad plaza at the narrow northern end of the isthmus, home to the Royal Audiencia established by the Catholic Monarchs. The statue at middle commemorates Maria Pita, a Coruñera who assisted in the defense of the city against the marauding British under the command of Francis Drake.
Marina

The best place in the city to see examples of A Coruña's characteristic architectural motif – the galerias, facade-wide bay windows which imitate the aft walls of large galleys.
Riazor Beach

Beach on the western side of the isthmus, facing the ocean. At low tide quite rocky, but no less beautiful.
Monte San Pedro

Large park on the hilltop to the southwest of city center – can be accessed via taxi or via a cool funicular which takes you to a big observatory. Great restaurant up there too.
Tower of Hercules

Already mentioned, but site of the oldest extant lighthouse in the world, built by the Romans in the early part of the first millennium. Lovely park surrounding it, with the compass rose of the Celts and a statue of a Celtic king.
Riazor Stadium

Home to Real Club Deportivo La Coruña, the city's soccer team, which plays currently in the fourth league. At one time (2005) they were actually good enough to win La Liga championship, but people love them regardless and I'm sure catching a game there would be a tremendous experience.
Estrella Galicia Museum

The Museo Estrella Galicia (MEGA) is a baffling thing – an absolute corporate narcissism and meticulously detailed and curated museum of the history of beer at the same time. At one point, a theme park ride puts you inside a vat of barley as you become hops. The 25 euro ticket is worth it for all the free beer at the end, but this is a long tour.
Museums

The Museo de las Bellas Artes da Coruña was very well-equipped, with a great selection of portraits from the 16th century up to the modern era. Also had a lovely collection just of Goya sketches. Other museums focus on Pablo Picasso, who spent his adolescence in the city.
Churches

The Colegiata de Santa María del Campo, located behind Plaza Maria Pita, dates back to the 12th century, which is sort of incredible in its own right. Otherwise go for the Parroquia de San Jorge, which is about 100 years younger.
Eating and Drinking
As an addendum to this section, I've put all these great bars and restaurants in a Google Map, available for viewing here.
Bakeries, cafes and fruterías

Every block in A Coruña has its own bakery and its own frutería. While there are supermarkets, people rely on these local shops for their fresh goods, and how fresh they are. Upscale bakeries like Tahona offer truly scrumptious treats with the Scandinavian industrial-chic design affectation a New York-based traveler might already be homesick for.
Some of my favorite cafes: Tahona, Vazva, Cafe Central Park, Astro Coffee, Cafe Siboney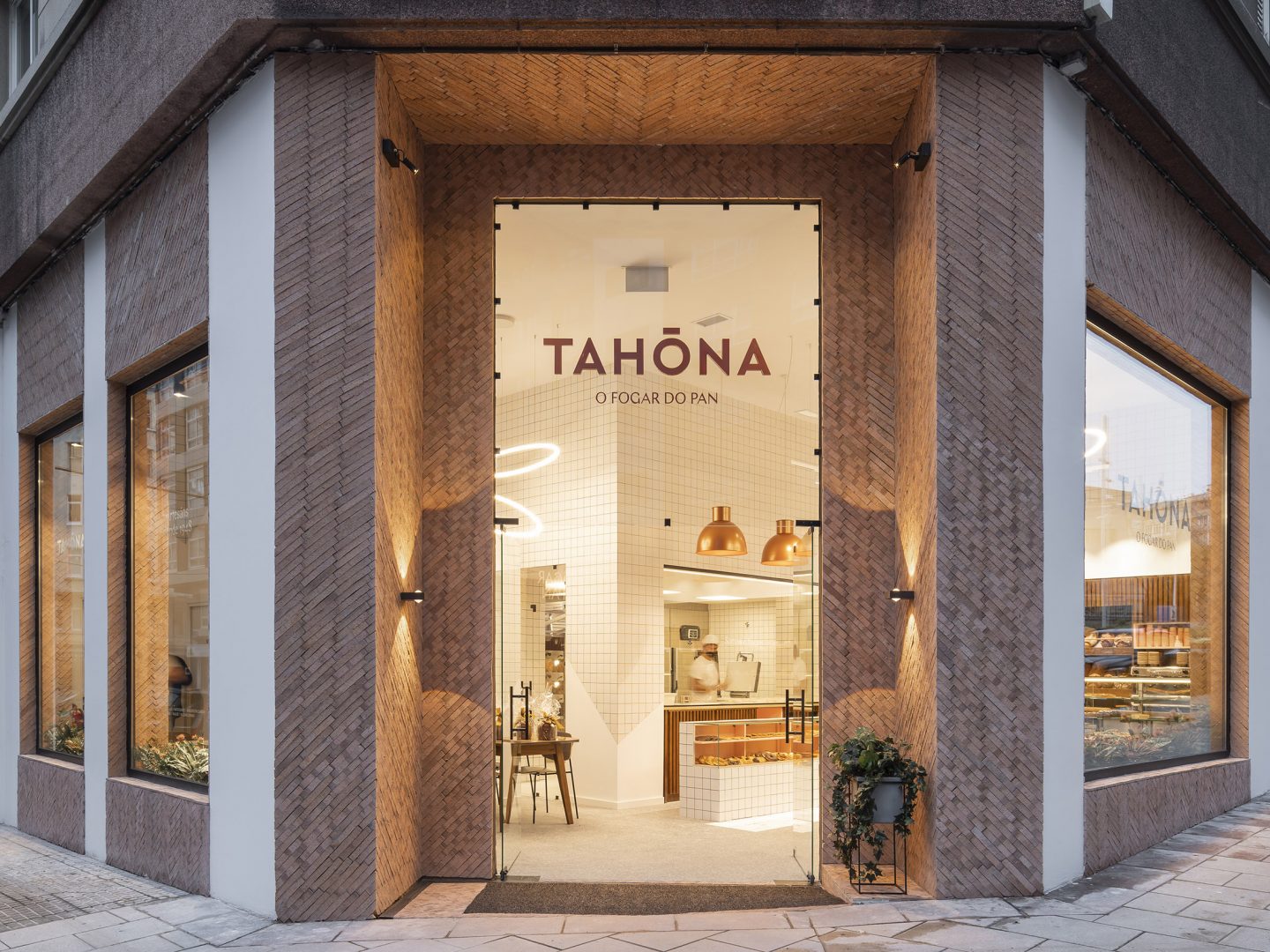 Seafood

Cab drivers in Madrid on the way to the train will tell you to eat the seafood in Galicia, and they're not wrong. All of it's good, but try taking the little tapas camarones at Os Tigres on Calle Galera. Very lovely.
Some of my favorites: A Mundiña, NaDo, Peculiar, Gastromaar, Terreo Cocina Casual

Bars

Like I said earlier, there are a lot of kids and students in A Coruña, and they will absolutely mob bars along Calle Juan Canalejo basically every night of the week. Bars tend to close at 1am but there are clubs, lines for which you'll see begin to form as the street-fronts close up.
Some of my favorites: Twin Fin, La Maleta, La Tata, Abuela Josefa, Kvras
Shopping and city life
Coruñeros shop for clothes like Americans shop for gadgets – when in Rome, do as the Romans and go shopping!

Definitely try the Inditex complex – any of the several Zaras, the Massimo Dutti, Pull & Bear, and Bershkas available in city center all fantastic.
Boutiques in city center are great as well, and it's fun shopping at the David in the relationship when Goliath is worth 100bn Euros.
It's worth heading for Marineda City, the giant mall built on the city outskirts in 2011. If you're dying for it, they've got the region's only McDonalds and Starbucks.
Coruñeros also prioritize chilling

Siesta is pretty well-adhered to most days – don't try and go shopping or out to eat between 2pm and 5pm
Plaza Pontevedra always has kids screaming and skateboarding thanks to the Colegio which fronts it. Otherwise, Plaza Maria Pita is gorgeous, as are the Plaza de Galicia and Plaza de España. For a nice day trip, try going to Santa Cristina Beach in Oleiros.