This essay is the first in a new series I'm calling Local Notes, where I'm excavating the hidden stories driving life all around us. These posts will appear first on my Substack, which you can visit here. Though this post focuses on Maryland, we are not limited in our geographical scope and so look forward to posts from points further abroad in the future.
The builders have picked up their shovels in Maryland. Cajoled, at long last, by the recent bounding pace of economic growth in the state between D.C. and Baltimore, these planners, developers, architects and contractors have brought something not seen in quite some time to the Old Line State – a renovation of the built environment, new neighborhoods, lecture halls, office parks, and glitzy, pedestrian shopping centers presenting a bold vision of what a suburban built environment ought to be. And now this rolling stone of bricks and draft plans presents me, whose vision of Central Maryland was frozen in the lows of recessionary apathy, with a jarring experience of coming home again.
---
As in the rest of the country, the years between 2015 and the outbreak of the pandemic were quite the economic boon for Maryland – jobs, wages, homeownership, and employment all ticked up smoothly.
This phenomenon was no less present in the low-scale urban, suburban and exurban areas of Central Maryland, which for the purposes of this piece I'll describe as a rough rectangle finding its southwestern edge at the border with Washington DC, its eastern edge on the Chesapeake Bay (and in particular the seat of Annapolis in the southeast), its northeastern border on the exterior of Frederick, MD and its closure around Baltimore in the northwest.
I lived most of my life as a kid within the interior of this imaginary polygon, though this is not an unusual circumstance – construed liberally, 75% of Maryland's population can say the same. And today, many of the friends who grew up here with me have dispersed themselves within this shape to start their adult lives.
I have friends in new build high-rises in the inner ring of booming Frederick; friends in the legacy core of high-profile Bethesda, profiting from a commercial mix tilting more and more towards our tastes; friends roosting in the good, old bones of Baltimore's neighborhoods; and friends in Takoma Park and Silver Spring and Columbia and Annapolis and Ellicott City. My parents gave up the exurbanity of Fairland Road, where my sisters and I were raised, for the newfound vitality of Laurel, where developers have erected a new town in a shockingly small amount of time.
It was not as a matter of course that these new high-rises and renovated shopping districts would be available for the generation of Maryland millennials aging into their prime years of household formation. Rather, it was only the sustained pressure of a half-decade of post-Recession economic growth that would force builders back onto their job sites in a major way.
I think that surveying the structure and distribution of this growth, and particularly of its impact on the built environment, is a worthwhile exercise. That's what I'll attempt to do in this essay – give a sense for what's changed about incomes and labor, how, and what it's meant.
I'll pay special attention to housing, a topic so dismaying in Marin County and Cheviot Hills and the Upper West Side which obtains an entirely distinct valence in Central Maryland: housing as opportunity, independence, mobility, deliverance.
I want also to convey in this piece the true Unheimlichkeit that this economic growth has foisted upon me, by now an itinerant visitor stopping by semi-annually, on remand from the coastal cities where I'm doing my best to ply a trade and build a career.
That pretentious German word was used most famously by old Freud, best translated for his purposes as "uncanniness", but I'll take advantage of its literal meaning and translate it as "unhominess".
It's that unhomey alienation which crops up every time I take a familiar left turn and run for the first time into a pristine, pedestrianized shopping center, full of fast casual eateries and breweries.
It appears when I end up on a night out at one of the casinos never found in the state before 2011, towering like they do in Macau over the rest of the low-slung environment.
It manifests every time I lay my head down to sleep in a cozy family home whose foundation was for many years mere fallow field, the road thereto previously little more than a dead end.
Hitting Rock Bottom
After the turn of the millennium, the economy of Maryland grew like the rest of the nation's, with real state-level income growing from $251bn in 2000 to a peak in 2008 of $316bn.
Critical to this Goldilocks 3% annual GDP growth, as elsewhere, was a red-hot housing market. The first half of the below chart illustrates the effect of that red-hot housing market on home prices.
What did everyday homeowners do in response to this major shift in the market for their largest asset? To understand that, we need to look towards one curious feature of the Bush-era economy, namely the outsized influence of an unfettered financial capitalism.
Loosed from its regulatory shackles in the 1980s, the industry's traders and structurers in Manhattan were by the turn of the century releasing truly creative financial products into the world. Case in point: the home equity line of credit.
HELOCs, as their friends call them, allowed existing homeowners to profit from this bubble in home prices by borrowing against the juiced-up value of their own homes. HELOCs distinguished themselves from more prosaic products, like second mortgages, by allowing the borrower to open a revolving line of credit, like a consumer credit card, with a credit limit equal to the value of their home.
The greater acceptance of HELOCs by homeowners and banks nationwide constituted a tremendous expansion of credit to consumers, an expansion which attained the heights in 2005 of financing $3 out of every $100 of household consumption. As HELOC usage grew, so did the dependency of the whole domestic economy on the continued strength of the housing market. That's the tough thing about collateralized debt – the value of the collateral ain't everything, but it's the only thing.
On the other side of the equation, the years-long rise in housing prices naturally impacted the companies whose work consisted in building houses. One of the more remarkable testaments to the strength of the residential real estate market in the early aughts can be found in the annual reports of NVR, Inc.
The folks at NVR are the nation's fifth-biggest homebuilder and, under the banner of Ryan Homes, have historically made about one-third of their revenue in Maryland.
In 2005, NVR reported "the most profitable year in the Company's history," making $698mm in profit on $5.3bn in revenue, all the result of "the largest ever volume of new orders and settlements."
Fortune, a one-trick pony magazine if there ever was one, ranked NVR's equity as the best investment among the list of Fortune 500 companies over the preceding decade. Times were good for Ryan Homes and its managers.
By the end of 2006, however, the company was cautiously less ebullient, understanding a cyclical shift that economic and financial commentators would take many more years to fully chart out. NVR wrote that it found itself "confronted with the challenges of a marketplace where increased demand and strong price appreciation of the last several years gave way to more difficult market conditions."
As elsewhere, the parabolic swing up in home prices was met with the rowdy pop of the housing bubble. Already unstable by the end of 2006, growth in home prices evaporated and in 2007 and 2008 a distinct decline took over.
And while homebuilders (and their investors) are used to weathering the cycles of modern capitalism, this time was different: indeed, the years following 2010 were the worst in Maryland for new housing starts since the 1950s.
NVR managed to turn a profit in 2008, the only publicly traded homebuilder to do so, but the effects of the downturn are easily heard in the tone of the introduction to their annual report:
Potential homebuyers were faced with several headwinds, including tighter lending standards, higher unemployment rates, dwindling investment balances, and news of a deepening recession. As a result, consumer confidence fell to historic lows and the demand for new homes weakened significantly. In addition, the housing market continued to experience high inventories of both new and existing homes, as well as high foreclosure rates. All of these factors contributed to the downward pressure on housing prices in all of our markets; and consequently, downward pressure on our profitability.

— from the 2008 Annual Report of NVR, Inc.
Meanwhile for Maryland's homeowners, you can extract from the chart of home prices above their experience as the crisis ebbed on pretty clearly – a distinct feeling of hitting rocks all the way down.
No less acutely felt was the impact of all those outstanding HELOCs in a regime of sinking prices – in September of 2008, Louise Story could already write for the NY Times a gauzy piece about the excesses of the lending market titled "Home Equity Frenzy Was a Bank Ad Come True".
"Little by little, millions of Americans surrendered equity in their homes in recent years as home prices seemed to rise inexorably from one peak to the next," she wrote.
By 2012, the nadir of home prices in the state, CoreLogic reported that Maryland's proportion of mortgages underwater was 9th highest in the nation, within the same realm as the infamous Nevadan housing market.
I graduated high school and skipped town in that year of bottoming out, unaware except in a peripheral sense of what was happening to the lives around me. Many of my friends' parents were employed in the federal government – for them, shutdown shenanigans and raise freezes would be the most keenly-felt impact of the recession, at least for the time being.
(To go long on a parenthetical, the biggest news stories I remember from the recession years are the Tim Tebow playoff game, the BP oil spill, and the Bin Laden raid. A ruder, fuller awakening would only come about once my childhood home had been lost to the trauma of the recession, my parents taking one of the few available bad options to get out of a bad mortgage.)
The same suburban built environment in which I had come of age, I had to assume, would persist – all Reagan-era malls, fast-food franchises, and unending corridors of subdivisions.
This is not to say that there was no commercial development in the decade approaching the Great Recession. In 2005, a developer razed 8.5 acres of a light manufacturing district immediately off the vital US Route 29 and built Westech Village Corner, there siting 12 "retail commercial businesses," including an IHOP, a TGI Fridays, and, critically for your correspondent, a Panera Bread. When a Chick-fil-A arrived a few years later, it caused a sensation.
In elementary school, we debated, along with the rest of Maryland's chattering class, the merits of infrastructure development under the guise of new highways and new transit lines. And when the corrections came, Maryland's government took the shovels out – I can recall the installation of an overpass at Briggs Chaney Road, and my mighty alma mater, Paint Branch High, was torn down and replaced over the course of my time there. Ours was the last class to graduate from the old building of nooks and crannies, which had opened to serve freshmen for the first time in 1969.
But I hope by the enumeration of these examples to illustrate the meagerness of these changes – one shopping plaza, more parking lot than anything else, a new high school, some highway construction, all over the course of a long decade.
I imagine this pace to be pretty typical of exurban/semi-rural non-residential construction – the settled patterns of low intensity comings and goings around Central Maryland never necessitated a crush of new building. Prudent administrators could look 5 years out, pick the handful of projects most useful, and steadily apply their hand to the completion thereof.
This two-track approach – a volatile, hot residential market partnered with a smoother, slower business and infrastructural construction market – suited the labor market, anyway. Construction employment rose by 50,000 jobs after 2000, accelerating as the housing bubble blew bigger and bigger.
Construction employment didn't stop crashing until home prices did, and even then, the lows stuck around longer than they did in the housing market.
We have then in the first 15 years of the century dynamics similar to those going on around the rest of the country. Economic growth
Emerging from the Rubble
Among the first movers in the wave of new building which came over Central Maryland following the worst of the Great Recession was the University of Maryland. Wielding remarkable power over the town of College Park, home to the state system's flagship college, UMD's administrators directed the expansion of the campus through the recession.
Legacy infrastructure, generally dating back to the post-GI Bill expansion of the 1950s, was remodeled and renovated. New residence halls opened in 2011 and 2014, breaking a streak active since 1968 of no new on-campus housing.
In the pre-recession years, a handsome and cavernous hall known as the Clarice Smith Performing Arts Center, devoted to the music and fine arts departments, had been the campus' major addition. In the years following, however, expansive new academic buildings, all glass and steel cantilevers, opened to house departments of journalism, computer science, and biosciences.
At the opening in 2019 of the Brendan Iribe Center for Computer Science and Engineering, luminaries including the Governor and head of the Maryland Senate came to toast the new spirit of construction which had taken College Park by storm.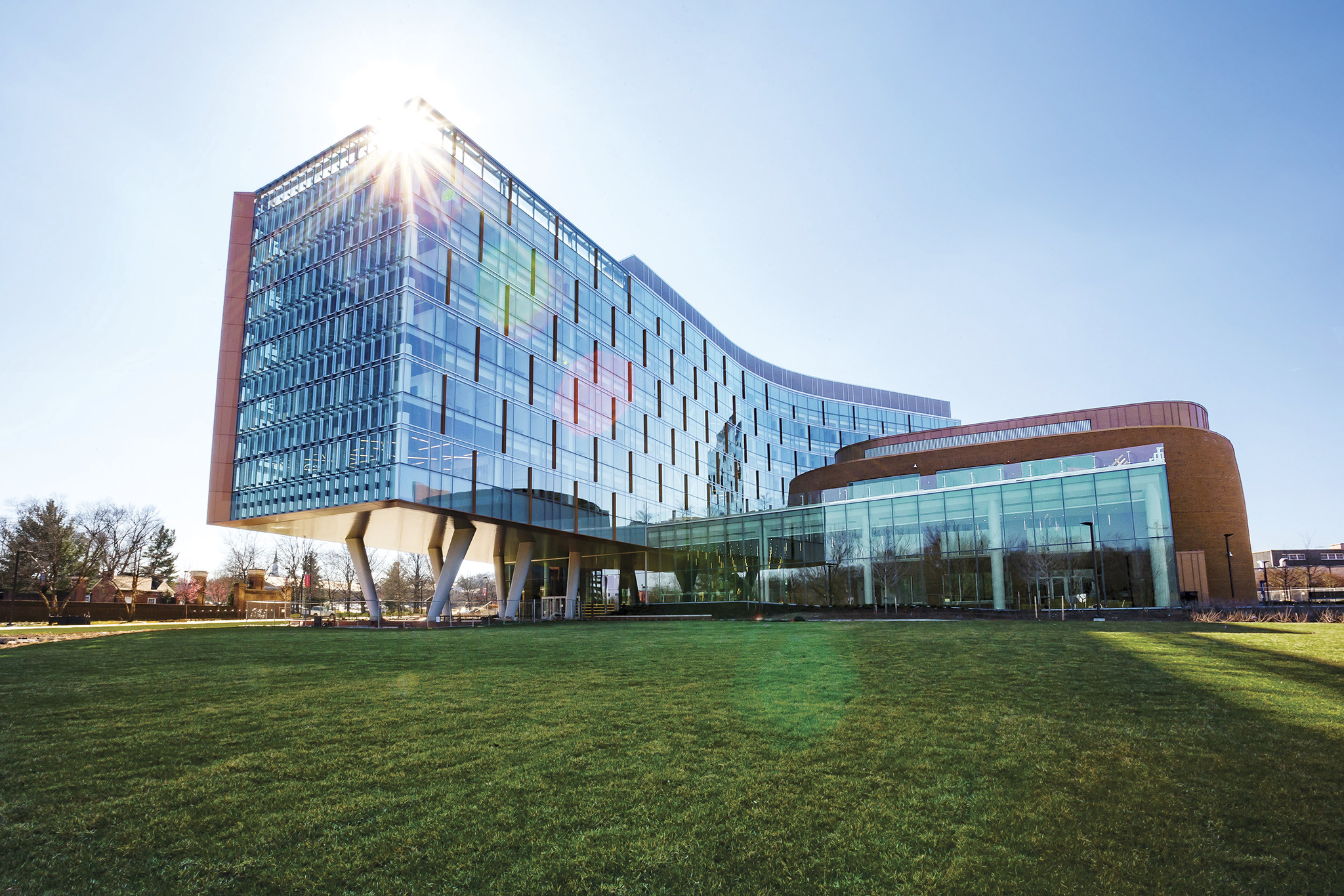 Crucial to the university's larger impact, however, was the East Campus Development Initiative. Promulgated in the university's 20-year facilities master plan, released in 2011, the initiative set to wholly make over the area of campus east of high-traffic US Route 1. East Campus, per the plan, would "undergo more changes than any other [area] on campus."
The plan, devised in partnership with the city and private developers, was to "transform" what was then an "industrial, back-door service area" into "the new face of the campus". Boosters from across the DC Metro area got their wishes granted as the University vowed to put new housing and mixed-use building at the forefront of the redevelopment efforts.
The university tapped Southern Management to raise up the diamond of the new East Campus, the Hotel at UMD. They broke ground on the project in 2015 and on the occasion of its opening in September 2017, the reporter Jon Banister wrote of the changes sweeping College Park:
Looking out from the terrace, one can see multiple signs of College Park's transformation that extend beyond the hotel.

On the edge of campus across Route 1, construction is underway on the Brendan Iribe Center, a $31M gift from the Oculus VR founder. The 215K SF computer science facility is expected to open next year.

In the parking lot behind the hotel, a nondescript one-story brick building will soon be home to a WeWork co-working space, the company's first Maryland location. Ulman said he will soon announce a Fortune 100 company opening a 7,500 SF innovation lab in College Park.
That the efforts of the highly resourced, highly motivated leadership of UMD were critical to revitalizing building in College Park is unsurprising, and moreso part of a common pattern. James and Debra Fallows, who set out in 2012 to chronicle changes in small town life all around the states, cited the presence of a major research university as one of their ten leading signals of civic success.
"Research universities have become the modern counterparts to a natural harbor or a river confluence," wrote James Fallows for The Atlantic in 2016. "In the short term, they lift the economy by bringing in a student population. Over the longer term, they transform a town through the researchers and professors they attract: When you find a Chinese or German physicist in the Dakotas, or a Yale literature Ph.D. in California's Central Valley, that person probably works for a university."
Certain others of the Fallows criteria are characteristic of the College Park boom, namely the presence of real public-private partnerships (#3), a culture of openness to outsiders (#9), and big plans for the future (#10). And indeed, the future these signals forecast came into being sooner than could have been expected.
A healthy mix of new commercial and residential development hit the city of College Park in the years following the university's push, mostly concentrated on that key US Route 1 corridor.
New multifamily housing sprouted like weeds to the north of campus, with buildings like the Mazza Grandmarc, the Varsity, University View, the Alloy and the Enclave at 8700 catering to the swelling student population. German grocer Lidl picked College Park to be among its first US expansion sites in 2017 and made good on the plan in 2019, opening a large retail space adjacent to a new Korean BBQ restaurant. The grocery, which helped alleviate the town's former designation as a "food desert," was also compelled to add stations supporting College Park's bike-sharing program to its parking lot. Augmenting the capacity opened up by the Hotel at UMD, Marriott and Hyatt brought in new builds of their own, a process which the indispensable Hyattsville Wire had to describe in November of 2019 as an "Upscale Hotel Boom".
And in the case of a parcel known as the Cafritz development, named for a Coolidge-era Russian émigré who ended up a Maryland landholding baron, development finally came to what once was the largest undeveloped property in all of surrounding Prince George's County. That changed when a new shopping center anchored by a Whole Foods Market arrived in 2017.
The vaunted developmental benefits of the Amazon subsidiary were lost neither on local politicians nor the Washington Post, who ranked the successful completion of the Cafritz development among the broader surge of building up and down Route 1:
'This opening is the realization that the county is competitive with the region,' County Executive Rushern L. Baker III (D) said. 'It symbolizes change.'

The opening means Prince George's, the most affluent majority-African American jurisdiction in the United States and one long ignored by big-name chains and businesses, is no longer an afterthought, Baker said…

The Riverdale Park store's opening follows the December debut of the $1.4 billion MGM National Harbor casino resort in the southern part of the county and a wave of redevelopment in its northern end in Laurel. New residential and commercial projects are in the pipeline for New Carrollton, in central Prince George's. And the Route 1 corridor, where the Whole Foods is located, is experiencing a construction boom from the District line to the Capital Beltway.

– from "Whole Foods debuts in Riverdale Park, another symbol of Prince George's progress," by Luz Lazo, Apr. 2017
What's more important for our story is that this construction boom did not remain limited to the Route 1 corridor. Instead, this new ethos of concrete, steel and glass spread in a creep all over Central Maryland, radically changing the built environment and the experience thereof, remapping the contours of settled, suburban daily life.
The New Build
Breweries in Columbia
Columbia, MD is a fairly well-studied place in the history of urban design. Its Wikipedia page boasts that it was among the first planned communities in the US, which is true; the town is the brainchild of James Rouse, a visionary builder who caught on quick to the potential of Edina, MN's new "weather-conditioned shopping center". He opened the nation's second shopping mall in Glen Burnie, MD in 1958 and only a few years later struck on the idea of building a whole town from scratch, which was sort of a thing at the time. In 1963, after buying up some land in pastoral Howard County on the low, Rouse presented his plan for Columbia to the Board of Commissioners.
Fast forward a half-century, and Columbia routinely ranks around the top of those "Best Cities to Live In" lists you read in the magazines at dentists' offices. In Central Maryland, its main pull is the Mall at Columbia, which began a period of rapid expansion in 2014. Hewing closer to James Rouse's initial vision for a true town center, Howard County execs tapped GGP, Inc to build out a pedestrianized expansion, which opened to great fanfare.
Across the way, however, there were stirrings of divergences from Rouse's master plan, a rebellion of business activity spurred by – what else – local legislative decisions to loosen alcohol laws. A month before the Baltimore Sun covered the expansion at the Mall at Columbia, the paper covered a topic whose import would be more speedily and broadly felt in Columbia – "Your Guide to Howard County's New Breweries".
"The state," wrote reporter Julekha Dash, "now allows breweries to sell pints and growlers of beer to take home. Before, breweries could only sell four sample beers that had to be consumed on-site. Howard County also modified its zoning regulations to allow breweries to operate in industrial areas, unleashing pent-up demand for craft brews."
Would-be brewers and customers alike rejoiced, spawning a new industry in and around the planned community. Jailbreak Brewing was toed up on the starting line in 2013 and hence claimed first-in-the-county status; within a year, they had to double their square footage to accommodate demand, and by 2017, they were confident enough in their prospects to open an adjoining kitchen at a cost of $500,000. By that time, other breweries were joining the battle for craft-thirsty customers, and the market was hot enough for a whiskey distillery to enter, like Gustavus Adolphus striding into Breitenfeld atop a company of Swedish lancers, opening its doors late the year prior.
Journalists and commentators remain curiously incurious on the source of the newfound millennial taste for craft beers. Recall the Fallows' commentary on the importance of breweries for the future health of a city: "A town that has craft breweries also has a certain kind of entrepreneur, and a critical mass of mainly young (except for me) customers. You may think I'm joking, but just try to find an exception." But whence such interest?
Was it like the famous case of brussels sprouts, where actual changes to the germ line made them tastier? Or was it something else entirely, something uncaptured by changes to the DNA of hops, barley, wheat, or malt? Why would Anheuser, Busch, Coors and friends maintain a stranglehold on the whetting of American thirsts for a century and relinquish that grip the minute a hazy enough IPA entered the market?
Reviewing a smattering of trade and trade-adjacent publications on the subject reveals that the institutional brewers themselves have no clue. I think the answer lies in mere timing. The millennial coming of age was different from the one experienced by our Generation X parents, for whom the essential 20th-century structures of American life remained in ganzen und größen in place: college, marriage, family, suburbs, etc. If revolutions (of any kind) are precipitated by the broken expectations of elites, there wasn't much expectation-breaking on offer in either the Clinton boom years or the 9/11 years to seduce the young Gen X'ers away from their well-trodden paths.
The Great Recession changed that. The experience of our parents was an often ruinous one, but for young millennials, who had little to ruin, the experience was culturally freeing, a smashing of the conformity cemented into place by the Reagan revolution. Economic cataclysm may have even been the first actor in this drama – when incomes and career progressions were depressed enough to make family formation a less and less appealing option (especially in the eyes of the highly-educated cohort of millennial women), extended adolescence appeared as a matter of course. Twenty years of spendthrift television production shifting to the cities didn't hurt, but there was now truly wider room for new tastes, a cosmopolitanism whose greatest expressions gave us Portland, OR and Williamsburg, NYC and Ballard, Seattle and Austin, TX, four cities whose common amenity would be hard to pick out if it weren't so obvious: the ability to easily drink creatively concocted and marketed beers among similarly desirous young people.
I was walking in Denver's River North Arts District, an exemplar of the kind of thing I'm talking about, when I realized that capital had caught on to this revolutionary trend in tastes fully. I stood in a reclaimed industrial space whose floorage had been parceled out to local artisans – jewelers, clothiers after an irreverent mold, rugmakers and knick-knack peddlers. A women's World Cup final had just concluded, which meant that it was a simmering July heat which filled the air, the kind that primed my fellow twenty-something tourists to don e-scooters and see the city at a breezy, 15-mph eye level. Through the hot air pumped surgically chosen pop music and down the street waited four or five watering holes boasting food trucks and stouts and sour beers and farm-to-table whiskeys and in my mind I, examining without intent a crafty pen or paperweight, recognized for the first time that I was being pandered to. And I went on happily shopping and sipping and eating the whole rest of the day.
Brewers in Columbia caught hold of that trend in 2014 and haven't looked back. In 2019, the Maryland Assembly voted to open yet more room for the expansion of the local craft beer industry. NPR, covering the changes, wryly remarked on the deeper history of beer in Maryland:
There's something strangely ironic about the arbitrarily low cap on craft beer production and sales in Maryland, especially if we examine the state's historic defiance to Prohibition. Maryland was the only state to resist all attempts by Congress to close off and dry up the flow of alcohol around the country. The city of Baltimore played a major role in the bootlegging era. Maryland's moniker "The Free State" was born out of this insubordination.

One hundred years later, major shifts in Maryland's political structure and leadership, coupled with the rapid growth and influence of the craft beer industry, have fueled the changes being seen today in the Free State.

– from "New Beer Laws In Maryland Mean More Craft Beer In More Places," by Esther Ciammachilli, Dec 2019
The changes involved in that 2019 law are minor, procedural, but they are representative of the mood.
What does this expansion feel like, on the fingers of the would-be Yelp Elites and Google Local Guides? A better reportage than I could put together was given by the writer Nicole Dieker, who described for Vox in 2019 the experience of moving from Seattle back to Cedar Rapids, IA as "the best $5,929.10 [she] ever spent".
I especially love, in a way that makes me laugh when I think about it, that I am currently living out my teenage dreams: the industrial-chic apartment, the coffee shops and literary festivals, the rehearsal rooms. I thought I'd have to leave the Midwest to find all that — but I only found my heart's desire, to borrow from another famous Midwestern story, when I came back to my own backyard.

– from "The best $5,929.10 I ever spent: moving back to the Midwest," by Nicole Dieker, Mar 2019
I find that similar feelings accrue when grabbing a growler of something delicious from Crooked Crab to share at home with my parents, to whom the taste of an IPA is alien. It's a happy, urbane surprise resting on the back of titanic capital movements over the past decade, each of which conspired to attract and keep in Maryland its population of potent young people. It's working.
Frederick, the Newly Millennial Town
Frederick, MD is growing new millennials at a rate double that of the rest of the state. From 2010 to 2018, the town's stock of millennials increased by about a fifth, while Maryland's grew only by about a tenth.
It's worth stopping here to ask ourselves what we might expect the downstream impacts of a change like that to consist of a priori. What are the salient features of millennial life, and thus, by generalization, of millennial populations?
To start at the beginning, per the Institute for Family Studies, it was in 2018 that the proportion of US births by millennial women peaked – 88 out of every 100 new babies that year were born to millennial parents.
The cohort forming and expanding their families is in the market for good jobs to work at and comfortable places to live. And it was to the provision of those needs that the boosters of Frederick decided to devote their attention. The rewards are plain to see in the transformation of what was once a sleepy town far away from the main thoroughfares of the Northeast Megalopolis.
Frederick's origins date back to 1745. Roger Taney, who decided Dred Scott, is buried in a cemetery downtown. The city was briefly the locus of the famous struggles by Abraham Lincoln to suspend the writ of habeas corpus, as secessionist assemblymen fled the statehouse in Annapolis for the presumed securer site in Maryland's northwest. The trick didn't work, and Lincoln tossed them (and a sitting Congressman!) in jail as a consolation prize. But that was sort of the end of history for Frederick for a while – the town's population wouldn't crack 40,000 until 1990. In the thirty years since, however, the citizenship has nearly doubled again, for want of the sort of jobs attracted by Frederick's peculiar brand of infrastructure.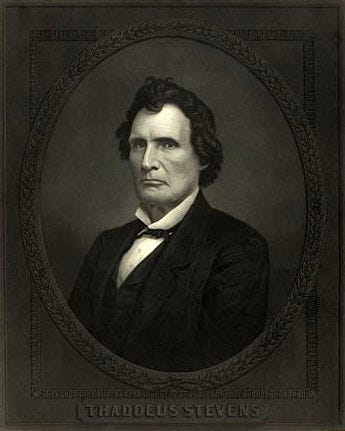 Give credit to the town's developers for being clear-eyed about where they came from: they admit, in an article titled "Why Frederick is Turning Investors' Heads," that their beloved burg has grown "from a sleepy small town to the second largest city in the State". A powerful biomedical industry, powered by federal funds, has been key to this renovation.
Fort Detrick, a sprawling governmental campus lying in northern Frederick, is charged by the US Depts of Agriculture, Defense, Health & Human Services, Homeland Security, and Veterans' Affairs with applying "biotechnology in pursuit of health protection and medical advances". To that end, the Fort employs 10,000 highly educated professionals, by whose labor the successful operation of programs like the National Cancer Institute is achieved.
More to the point, Fort Detrick, which was founded in the 1930s and used to host the US' biological warfare program, anchors a regional economy dense in biomedical and pharmaceutical businesses. AstraZeneca, ThermoFisher Scientific, and Kite Pharma are among the blue-chip pharma names demanding thousands more well-educated researchers in Frederick.
Among a certain stratum of economic and urban commentators, this is basically a dream scenario. "Biomedical" has been a watchword in urban (re)development for the length of the 21st century, the idea being that this subsector of the economy will be so powerful in its demand for just the perfect employees, so alluring in its capacity for installing an educated tax base, that would-be Austins and Portlands and Madisons would be foolish not to prioritize its needs in planning for the future.
Frederick is reaping the fruits of its investments in biomedical industrial development. High-value-added manufacturing and businesses of other adjacent subsectors are piling in as well, stoking the fire of economic growth, and, more importantly, bringing more millennials to town. Where to put them all?
Most of the answer lies in new construction. In 2018, the county's housing stock grew more quickly than any other county in the state. Prices rose at a good clip too, growing 4% year on year. Most of this construction growth came from multifamily developments, a situation which local officials felt noteworthy enough to distinguish to the Frederick News-Post.
Brick Lane, a development company, pressed the trend further when they opened a new apartment complex, designated The Bottling Plant, in early 2020. The complex backs onto the grounds of Rose Hill Manor Park, where slaves once toiled on an estate dating to the 1790s. Its colorful name derives from the building's former life as an actual bottling plant for Coca-Cola.
A precious crucible of growth, however, lay in older beams. Washingtonian looked at Frederick's growth in 2016 and, in an otherwise thrillingly gossipy article, attributed it to older millennials returning to a cheap urban core ready for move-ins.
Today the city seems to have hit a cultural sweet spot, appealing to a mobile young workforce that puts a premium on quality of life—a 20-minute drive from the Appalachian Trail, the county also boasts a long network of bike paths. 'Just look at how people want to live,' says Gardner. 'If you want a bikeable, walkable community connected to an urban core, the city of Frederick is the place to be.'

Walking Frederick on a summer weekend can give anyone struggling to keep a toehold in the District a case of rowhouse anxiety: A six-bedroom Civil War–era house with crown molding and hardwood floors recently sold for less than $300,000. 'I've told friends from high school, "Come back or you're going to miss it,"' says Brennan Gmeiner, 25, who returned home after college to work for a financial-services company.

– from "Frederick Could Be an Urban Suburb of DC–Unless Its Good Ol' Boy Past Gets in Its Way," by Miranda Spivack, Sep 2016
Frederick and Columbia found a pathway towards small-town urban revitalization in appealing to millennial tastes. What lessons does this successful strategy offer to the rest of Maryland, and other similarly situated places in the US? Look out for the conclusion to this Local Note, and hopefully an answer to that question, in Part IV.
Triumph of the New Urbanism
It was in Fulton, MD, that a generation of Central Maryland band and orchestra students picked up their first instruments; there in that town could be found the only Music & Arts store for miles, the natural home for the rental of violins, clarinets, and, appropriately for your correspondent, trombones as well.
Music & Arts, for its part, was founded in 1952 by an enterprising Marylander of Bethesdan stock named Ben O'Brien; it never aspired to much more than East Coast expansion but, in 2005, was bought by Guitar Center, the national instrument retailer, who themselves filed for Chapter 11 protection from their creditors just in November of last year.
Fulton, a western-lying drag along US Route 29, was apart from its instrument rentals distinguished mostly by the presence of a tremendous water tower, prominent in a very rural sense above the flow of cars pumping south from Columbia and north towards Baltimore. This is altogether to say that in Fulton very few people lived. Even in 2010, the Census could only find 2000 souls living in its borders.
The decade following 2010, however, brought dramatic changes in population growth to this southern slice of Howard County. The agent of that change was largely the developer Greenebaum Enterprises, who began work on the land that would become Maple Lawn, Fulton's major development, all the way back in 1986. The development of 600 acres of lush, empty Howard County hillside into suburban sprawl became a long game; it was only in 2004 that the first homes in Maple Lawn were completed.
That incubation period allowed a distinct architectural flavor to filter into the eventual developments at Maple Lawn, one which privileged narrow streets, a denser core, and walkable connections from residential neighborhoods to commercial developments. In this respect, Maple Lawn was emblematic and even quietly representative of the push towards the New Urbanism of the late aughts.
New Urbanism is a sort of architectural movement so privileged in the minds of its adherents as to deserve a Congress. The Congress of the New Urbanism, who do terrific work, describe their mission as one of championing "walkable urbanism".
We provide resources, education, and technical assistance to create socially just, economically robust, environmentally resilient, and people centered places. We leverage New Urbanism's unique integration of design and social principle to advance three key goals: to diversify neighborhoods, to design for climate change, and to legalize walkable places. We build places people love.

– from "Who We Are," Congress of the New Urbanism, accessed 2/8/21 (emphasis original)
The core tenets of this architectural movement can only be understood in opposition to those which flourished in modern cities in the post-war period, the dreaded car-centric planning of new western cities like Phoenix and Los Angeles and eastern renovations like urban renewal. Where a strain of modernist planning thought in the mid-century believed we'd all be happiest taking our cars from our residential zones to our office zones and in between to our commercial zones via highways of beton brut and rebar, the New Urbanism, by contrast, "focuses on human-scaled urban design" – "walkable blocks and streets, housing and shopping in close proximity, and accessible public spaces".https://www.youtube-nocookie.com/embed/sOaXfc9MuKc?start=535s&rel=0&autoplay=0&showinfo=0
What's tough about executing on the undeniably attractive elements of New Urbanist design is the extent to which its antagonist features are embedded within the developmental institutions of modern American life. Ask any urban planner on Twitter and you'll be treated to a standard litany of curses: parking minimums, minimum lot sizes, setbacks, and the truly detested "neighborhood character" stipulations. Each of these are legalistic notions privileged by existing planning processes which serve to deter the kind of human-scaled urban design New Urbanists see as key to the healthier development of our cities and towns.
Therefore all the greater the surprise that a few of Central Maryland's latest developments have managed to buck institutional constraints and densify construction, introducing New Urbanist principles into popular, well-traveled new builds along the way.
Case in point: in 2014, a developer named Federal Realty finished up work on one of their biggest projects, a 24-acre build-up known today as Pike and Rose. The new plaza was eventually to offer high-scale shopping and eating amenities in close quarters with high-rise urban construction – today REI and Target anchor a center self-identifying as the "premier destination for shopping, living, dining, and working in North Bethesda, MD".
Federal Realty broke ground on the development in 2004, contravening some traditional timelines of New Urbanist work as being entirely post-Recession; still, the Washington Post acknowledged in their review of the new center's opening the debt it owed to the changing tastes of a generation:
If strip malls represent the zenith of the American love affair with the car, new walkable urban-suburban communities exemplify the new love of walking, biking, ride-sharing and relying on public transportation. The replacement of acres of parking lots and shops with 'surban' developments is more than a fad; it's a re-imagination of how people prefer to live.

Transforming the former strip malls along Rockville Pike in North Bethesda into the Pike & Rose development may seem like a natural outgrowth of the contemporary taste for citylike neighborhoods, but Rockville-based developer Federal Realty Investment Trust, owner of the property since the 1980s, began planning the redevelopment more than a decade ago.

– from "Pike & Rose: A community grows on Rockville Pike," by Michele Lerner, Oct 2017
Similar developments cropped up elsewhere around Montgomery County, most notably in Wheaton, MD. Previously distinguished by an escalator deemed the longest in the Western Hemisphere, Wheaton got some high-rise, high-density build of its own in 2013, when Patriot Realty united plans for the introduction of a new Safeway grocery store with the addition of 900 residential units into a 17-story megastructure towering over southern Maryland.
When developers tried to run the same play with Maple Lawn, they were met with consternation. A group of existing homeowners, fearful of what growth would bring, got together under the name Smart Growth Fulton to broadcast their grievances on a larger scale, a form of organization usually referred to by its critics as NIMBY-ism – that is, "not in my backyard". In one of the worst justifications for opposing the project, Katherine Taylor, the lawyer representing the NIMBY interests in pre-build Fulton, got the Baltimore Sun to credibly quote her saying that somehow "high density [was] typically less environmentally friendly" (for the record, there is nothing less environmentally-friendly than single-family housing). The Iager family, stewards of hundreds of acres in the region since the Van Buren administration, beat Smart Growth Fulton's challenges back in court and were finally able to rezone the land up to levels sufficient for actual development.
Fitting with the New Urbanist ethos, an early brochure for Maple Lawn boasted the goals of offering to residents "an eclectic mix of local, high-quality dining establishments, boutique shops and service retailers…without the congestion of traffic." Maple Lawn's residential architecture, freed from the minimum lot size requirements which breed a stultifying similarity among usual-build subdivisions, diversified rapidly. Among its most popular incarnations was the flavor of home construction led by Williamsburg Homes, who built "Victorian-looking townhouses and estate houses with mansard roofs reminiscent of Second Empire 19th-century France architecture".
One Washington Post story was so enamored of Maple Lawn's approach as to declare that "if it weren't for the 21st-century sedans and minivans, the houses in the Howard County planned community of Maple Lawn could be mistaken for another era's."
More to the point, this radical shift in (sub)urban planning has yielded the communal benefits desired. Today, Maple Lawn – a community wholly non-existent before John Kerry's presidential run – "hosts the Maryland HalfMarathon, a music festival in October, and a large street festival in July". Shed your cynical lens a second and recognize in this kind of organizing the end, desired effect of higher-density building – that is, the disabusing of a pattern of thought present in the mentalities of many suburban dwellers, that living close to your neighbors was ever a bad thing.
No, I and those leading the New Urbanist wave in Maryland must say to that thinking – close quarters breed familiarity, friendliness, and, eventually, family out of sometime strangers. New Urbanism won its way into Maryland through the action of ideological partisans with points to prove about urban planning and zoning reform. It'll win its place for good by the undeniable effects of its good government.
Links
Because it's been so much Maryland to start at Local Notes, I wanted to share some of my favorite readings from the past few weeks on local goings-on around the world. Hopefully we'll be able to visit some of these places in the near future and discuss them ourselves.
The Squamish of Vancouver, BC, in possession of a prized satchel of downtown land, have decided to dramatically upzone their landholdings and build thousands of apartments in an area usually constricted by NIMBY interests to very limited new building. This is fantastic!
A passel of local government actions seems to have mandated more residential construction over crisis-plagued California, from San Francisco to the South Bay and Beverly Hills to Santa Monica. Here's hoping the groundswell for action continues in whatever form of gubernatorial administration endures into next year.
Rep. Marcia Fudge is the Biden administration's pick for Secretary of Housing and Urban Development, and this article from the unsurpassed CityLab presents some of her ideas for what she'd like to get done upon confirmation. If she can get even one of President Biden's major initiatives passed, the result will be massively advantageous to the state of housing in this country. Here's hoping!
This Economist article is worth it for the description of would-be real-estate tycoons in Hegang, China, located in the deserted border zone with Russia, trying to flip new developments on the quick. If any readers of Local Notes have heard of Hegang prior to this article, please let me know – I'd be shocked.
Not a Local Note, but a clip from the episode of Family Guy I watched after Patrick Mahomes got drubbed in the Super Bowl made me laugh, so I thought I'd share:
Until next time!